We were warned – Udaipur (Rajasthan) would be too touristy for our tastes. But we decided against popular notions and sought to experience Udaipur for ourselves. And lo behold! With or without tourists, we were overwhelmed and fell in love with Udaipur. And hence, we thought of sharing our travel takes from the 'city of lakes'. This Udaipur Travel Blog gives you the best of things to do in two days in Udaipur.
This city is like a movie set – well to be precise it was once used as the backdrop to a James Bond movie (Octopussy, 1983), and perhaps there was a good reason for it. Udaipur, with all its stunning forts, gorgeous lakes, and centuries of layered culture and history, is undoubtedly one of the best travel locations in India.
The city of Udaipur formed the capital of the erstwhile Kingdom of Mewar, as per old Indian history. This was a short trip and we were hard-pressed with time. So we decided on "minimum hotel time and maximum street hours" during our two days trip to Udaipur. Mewar is a hilly and invigorating green part of Rajasthan. It lies in the windward side of the mighty Aravallis- one of the oldest mountains in the world.
Is Udaipur Worth Visiting?
YES!
Definitely Yes!
A lot of people around you might suggest that Udaipur is too 'touristy' and crowed, but we would suggest you not to remove Udaipur from your itinerary. Especially if you love history and have an attraction towards understanding the unique culture of Rajasthan. In Udaipur, we saw history (particularly of the erstwhile Mewar kingdom) unfold right in front of our eyes. And, as you might already know, Sonakshi has a major crush on historical events and monuments.
As for me, I loved Udaipur for some beautiful photo-ops this city can provide.
Our 2-day Udaipur Travel Itinerary
Well, our rush hour of two days in Udaipur was worth it and we yearn to come back for more soon. Whether you call this city "the White City" or "Venice of the East" or "The City of Lakes", the fact that Udaipur will always be Udaipur.
This Udaipur travel blog doesn't tell you exact address or store hours but instead pokes you for excitement to be there. The above itinerary is a firsthand experience of two young travellers trying to make the best of a famed city in two days. And below are the reasons that made us fall in love with Udaipur in just 2 days! 🙂
Things To do In Udaipur That Will Make You Fall In love With This Beautiful City
Lake Pichola
An interesting aspect of Lake Pichola that we found was that the whole city of Udaipur thrived around and in it – historically as well as to its present state. It is a man-made lake –interestingly by a gypsy, who is popularly known as "Banjara" in Rajasthan. Years later, Maharana Udai Singh, the founder of Udaipur built the city around this very lake.
We found that the Lake Palace Hotel, by the famed Taj group of hotels, to be the focal point. The shimmering lights of this hotel reflecting on the water is something that lingered on to our senses for a very long time. Udaipur leaves an imprint that is best felt when visited in person. We were told that several generations of the king had a similar penchant for the lake. Each generation contributed to enhancing the beauty of the lake by building palaces which they left behind on the four islands within the lake and the adjoining land.
The Bagore Ki Haveli Experience
One of the most attractive things to do in Udaipur is to visit palatial Haveli located on the shores of Lake Pichola, hence offering a brilliant view. The massive structures act as a live museum, giving a peek of the royal loves of the kings and queens. On our first day in Udaipur, we ended our day with the Dharohar Dance Show at Bagore Ki Haveli. It started around 7 PM and is an hour-long show in the courtyard. The balconies were beautifully lit up and the whole atmosphere was folk Rajasthani. Large mattresses are placed on three sides of the terrace on the floor and these serve as seats around the stage. The Dharohar dance show is a lively show that is an effort to exhibit the tradition and culture of Rajasthani folklore in an alluring way.
Sadly, photo and video recording of the show isn't permitted, and thus we don't have any photos to show. However, here is a quick snippet from the show organisers ????
Fateh Sagar Lake
A trip to Udaipur is loaded and this makes planning a short trip here a Herculean task. Nevertheless, hoping that we do not miss the crucial spots, our next in the list was Fateh Sagar Lake. Named after Maharana Fateh Singh, this is another artificial freshwater lake created in the 1680s. The lake has several islands, the largest being a park called the Nehru Park.
The lake also houses a solar observatory known as the Udaipur Solar Observatory on one of its islands. We drove around the Moti Magri road and that gave us a total view of the lake. Although we were unable to visit, we heard in one of the islands there was a café in the shape of a boat and is highly recommended. Udaipur is riddled with numerous shopping places, as you would expect an acclaimed tourist destination to be. So irrespective of whether you are visiting a palace or a lake, there is no dearth of shopping spots.
We wanted to get a more engaging experience of the lake so we took a 30 minutes boat ride, and apart from the bracing experiences we took home some amazing pictures. There are various boat riding options and no matter how touristy it sounds, it is a very interesting experience in Fateh Sagar Lake.
Udaipur City Palace
The City Palace was quite visible from our hotel window. Located on the banks of Lake Pichola, this grand palace is an unequaled visual of the status and charm of the Mewar dynasty. A visit to the Udaipur City Palace is incomplete without visiting the palace museum. This is one of the best things to do in Udaipur.
One of the first complexities that unfolded before we were purchasing the entry tickets. There were 20 different combinations of experiences! And each one seemed lucrative than the other. But since time was a factor in these two days in Udaipur, we decided that the City Palace and Palace Museum combination works best for us. The entry is from 9:30 AM till 4:45 PM.
We made our entry through a beautiful triple-arched gate guarded by men in handsome uniforms. We were surprised to walk through a mundane door, only to be mesmerized by total grandeur inside. We entered a hall that displayed a wide range of archaic weapons and the flags of the Mewar rulers fluttered everywhere inside the hall. Inside the museum is a plethora of glass inlay work and marble idols.
We have a blissful time sitting down in the Central Garden within the museum. This garden had beautiful flowering shrubs, trees, water basins, and arched pavilions. The cage of pigeons was another walk through history for us on this tour. Pigeons were used as messengers in ancient times. While the city palace might seem rustic in its exteriors, the interiors presented a different story altogether.
Sonakshi loves to pose, especially in palaces!
Jag Mandir
Jag Mandir, situated on the island with the same name in Lake Pichola, was constructed by a series of rulers. Although 'mandir' translates to a temple, Jag Mandir is a palace. This palace has quite a history to its name as it served as a refuge to the Mughal Emperor Shah Jahan. What amazed us was the large elephant statues that welcomed people to the beautifully landscaped island, which was used by the royal family to hold parties, around 300 – 400 years ago.
Interestingly, Udaipur that's seen as one of the highest tourist footfalls in India, is not just about lakes or mountains or palaces. Of late, it has emerged as a preferred venue for celebrity wedding of unimaginable scale and grandeur. Industrialists, film stars, celebrated artists to sports stars, Udaipur has seen them all.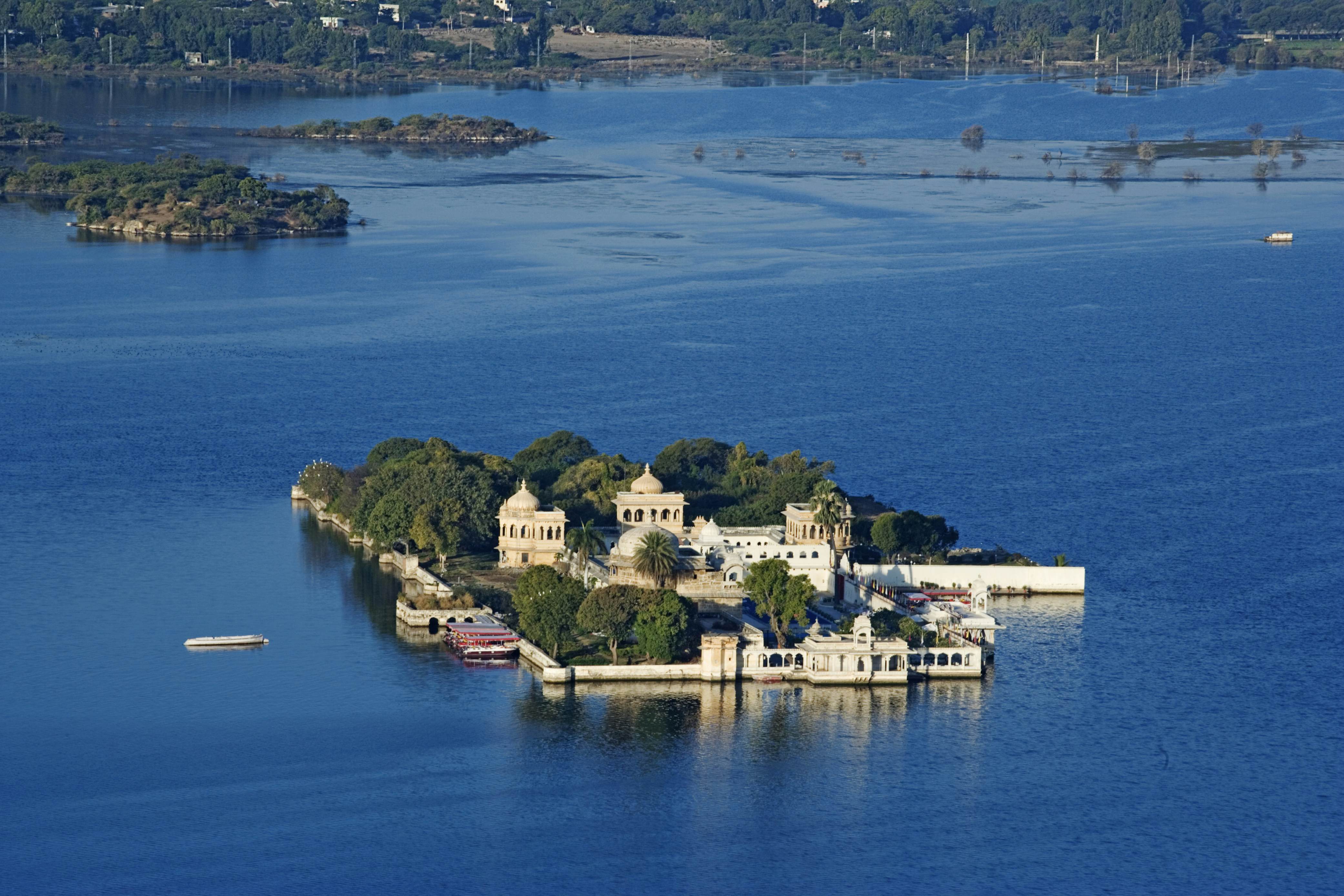 We entered the Jag Mandir complex via a jetty and that is where we were greeted by the white elephant statues. The palace has a beautiful garden within the courtyard. Within the complex is the "Palace of the Twelve Stones" built on twelve solid marble slabs. A museum inside the Jag Mandir complex displays some of the most important parts of the Mewar dynasty and its culture. Our list in these two days in Udaipur was certainly getting better and bigger. And so is our Udaipur travel blog getting its right dose of content.
Saheliyon Ki Bari
Maharana Bhopal Singh has created this beautiful garden for the female attendants who accompanied the queen as part of her dowry. Built near the Fateh Sagar Lake, is comprised of beautiful gardens, lotus ponds, and even has a small museum. What we realized in our two days in Udaipur is that it is an experience of a lifetime to be here. The city defines what an oasis is. Udaipur, in all fairness, has so much to offer that adjectives fail and words fall short to describe it.
Saheliyon Ki Bari is a beautiful location for photos, but it is difficult to get a frame without the crowd photobombing!
Vintage Car Museum
We decide to extend our experience of the old world charm with a visit to the Vintage Car Museum. Situated on Gulab Road in Udaipur, the Classic and Vintage car museum is a collection of motor cars used by the Maharana of Mewar. The collection includes several Rolls Royce and Mercedes models, but what rolled us over was an ethereal 1934 Rolls Royce Phantom. The curious café, the aged Shell Petrol Pump, the rustic museum, and very elegant vintage cars all around presented a very retro ambience. We were particularly impressed with the staff, who were so willing to show around and talk about the history of these wonderful cars. It is fascinating to see old school British, American, and German engineering excellence find a common shed in India.
Moti Magri
We decided to end our wonderful stay in Udaipur with an evening Light and Sound show at Moti Magri. Moti Magri or Pearl Hill overlooks the Fateh Sagar Lake and has a memorial of Maharana Pratap. The first thing that we saw here was this huge statue of Maharana Pratap and his horse 'chetak'. This statue is entirely made of bronze and celebrates the companionship of a man and his horse. A Japanese Rock garden laces the fringes of the memorial ground.
Complete List of Places to visit in Udaipur in 2 days
The relics of the grand Rajputana pride are visible in the architectures of the city, its culture, food, and the courtesy that the locals bestow on you. It would be unfair not to mention a complete list of the grand palaces, beautiful lakes and gardens that have made Udaipur what it is today.
Below is a list of all the places to visit and see Udaipur attractions and a few things to do as well:
Lake Palace: for a Royale Architecture
City Palace: a Magnificent (but slightly overrated) palace
Jag Mandir: Religious Place
The Monsoon Palace: Hilltop Palatial Residence
Ahar Cenotaphs: Archaeological Significance
Fateh Sagar Lake: Serene Lake
Saheliyon Ki Bari: Beautiful Garden
Bagore Ki Haveli: Oldest Haveli
Bhartiya Lok Kala Museum: For Art Lovers
Shilpgram: Handicraft And More!
Vintage Car Museum: Automobile Beauties
Lake Pichola: Prominent Site
Karni Mata Temple: The Temple Of Pride
Jawahar Nagar: Aerial Views
Jagat Niwas: Heritage Mansion
Hathi Pol Bazaar: Artisanal Products
Ambrai Amet Haveli: Scenic View
Tribute: A 'Tribute' To Chetak
Doodh Talai Musical Garden: Music In The Air
Eklingji Temple: Religious Excursions
Jagdish Temple: Stunning Marvel Architecture
Maharana Pratap Memorial: Homage
Udaipur Solar Observatory: Intellectual Hours
Crystal Gallery: Royal And More!
Jaisamand Lake: Second Largest Artificial Lake
Bada Bazaar: Market That Offers Everything!
Gangaur Ghat: Serene Ambiance
Bapu Bazaar: For Udaipur Decoratives
Mewar Biodiversity Park: Vibrant Flora And Fauna
Marvel Water Park: Adventurous And Refreshing
Aravali Nature View: Stunning Sights
Udaipur Ghat: Mesmerizing Sunsets
Sahastra Bahu Temple: Seek Blessings Of Lord Vishnu
Under The Sun Aquarium: Witness Beautiful Fish Swim By
Where to Stay in Udaipur
Broadly categorising, there are 2 main areas to stay in Udaipur – (1) around lake Pichola, and (2) a bit far from the central area. Well, this is assuming you are not planning to stay right in the middle of the lake – Taj Lake Palace!
The supreme view from our hotel's roof top restaurant
Choosing a hotel around the lake has its own advantages, but there are also a few negatives of it.
Advantages of staying near Lake Pichola:
> The view! Majority of the hotels in this area have rooftop restaurants. And, being right next to Lake Pichola, it will be dinner with an awesome view!
> All the major attractions are practically at a stone's throw distance.
> There are a variety of hotels, falling in different tariff ranges – from budget to posh.
Disadvantages of staying near Lake Pichola:
> Being the central spot, it will be crowded – especially during the peak season.
> The lanes are too narrow to take your car inside. We had to park our car around a kilometre away from our hotel.

Since we didn't have any issues with staying in a crowded place, we had chosen a nice and highly-rated 3-star hotel right next to Lake Pichola! Additionally, staying here gave us the added advantage of reaching many spectacular photo-spots just by taking a quick stroll.
But, if you would prefer to stay away from the hub-hub of Udaipur, we would suggest you select a hotel slightly towards the outskirts of the city. These hotels are primarily the luxury ones (though there are a few budget hotels as well).
Where to Eat in Udaipur + what to try
Kabab Mistri: A Fine Dine Restaurant
Jaiwana Haveli: Rooftop Restaurant
Raas Leela: Lakefront Restaurant
Charcoal By Carlson: Scrumptious Delicacies
Sheesh Mahal: Gorgeous Restaurant
Upré By 1559 AD: Finedine with a photogenic location
Natural View Restaurant: as the name suggests…
Sunset Terrace: ideal for a romantic dinner for 2
Well, there are plenty of amazing fine-dine restaurants in Udaipur, and we did try a couple of them. But, surrounding Lake Pichola, we found an array of contemporary as well as quirky cafes and restaurants. One of them was 'yummy yoga'. We had never heard about it before, but the name caught our attention, and we went in to try it out.
And it turned out to be a wonderful and cherishable experience. The menu was unique and the staff were warm and cordial. Like western cafes, we found a few puzzles kept inside. One of the staff members challenged me if I can solve the 'snake-cube' under 1-min, they will offer free desserts. And………….. ????
In the end…
If you love tantalizing your travel buds, Udaipur is the city to explore. A city that will drive even the sluggish human being from a hotel room to action on the streets. The landscape, for a moment, might make you reminiscent of the foothills of the Himalayas, but its unquestionable warmth will remind you of the aroma of the desert. Udaipur, with an ever-present history, can only be felt through the senses. So go ahead and relish the local cuisines, poetic language, and friendliness of the locals. You are in the right place when you are in Udaipur.
placesinpixel.com is a participant in the Amazon Services LLC Associates Program, an affiliate advertising program designed to provide a means for sites to earn advertising fees by advertising and linking to amazon.com. In additional to Amazon, placesinpixel also participates in other affiliate programs wherein we might earn referral commission with no additional cost to you.