Historically, Sri Lanka fascinates all, but it is not just the history which actually makes us plan out a family holiday to this out of the ordinary land. The Sri Lanka of what we know today is in reality an ancient cultural marvel. The documented proof shows evidence of prehistoric human settlements in Sri Lanka, spanning around 3000 years, as its geographical location made it of great strategic importance and, was known as a trading hub with the European continent and the Far East. The spice trade was a big attraction for many countries.
How to Plan a family holiday in Sri Lanka
Best Time to visit Sri Lanka
While planning family holidays in Sri Lanka, it is advised to keep in mind that it is a tropical island the weather is always warm and humid; also Sri Lanka has two monsoons [October to early December and May to June] and the central region is dry and rocky, so summers there can be really hot. It's best to visit in the winter months from December to March, and if you want to be part of the medieval festivity at Kandy the month of August.
Tip: September is a good month and we can also get good off-season prices.
How to decide on time spent in Sri Lanka
With something to offer for everyone and of all ages a Sri Lanka family trip is thus is an ideal destination; for a from jungles with wildlife in their natural habitat; to beautiful sandy beaches, world heritage monuments; vast expanses of world-famous tea gardens; and of course the sumptuous spicy food galore.
If there is a shortage of time, then it is best to make an itinerary around our interests, but a minimum of 7-8 days is needed in a Sri Lanka itinerary to cover most the major tourist destinations.
How to get a Sri Lankan Travel Visa
Once we have finalised our days and period for a trip to Sri Lanka, the next is to get a visa, which is mandatory, to enter the country. The Electronic Travel Authorisation is easily available online and can be applied through a simple application on the official Sri Lankan government website www.eta.gov.lk. After processing and credit card payments, the printout of the approval is to be handed over to the Sri Lankan immigration officer at the airport along with a 6-month valid passport. Each visa is valid for 30 days.
Here is an easy way to check your visa requirements:
You can apply for the visa yourself or get it done through a trusted visa provider (like ivisa).
How to reach Sri Lanka
Colombo, is the capital city and around 40 kms from it, is the only airport, Bandaranaike International Airport, the first destination on your Sri Lanka family holiday; it is connected with direct flights from most major cities of all over the world.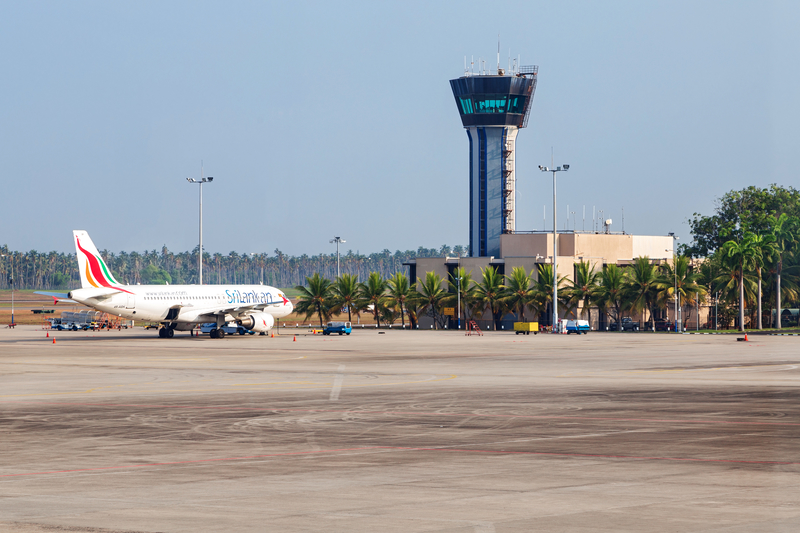 From the airport to the city, all modes of transport are available Bus, Auto-rickshaws [Tuk Tuk] Trains and Taxis. It's best to hire one from the registered counter at the airport or bargain the price before the journey.
How to get local Sri Lankan Currency
The currency of Sri Lanka is Sri Lankan Rupee and divided into 100 cents and the currency code is LKR. (as of Oct'20, USD 1 equals to LKR 184).
It is highly advised to have the local currency available with self, on arrival. It is best to convert only once you enter the country from a certified exchanger or at the airport. It is best to have enough notes in lower denominations when travelling in local markets and rural areas. In Sri Lanka, people like to deal in cash, especially local food joints, tuk tuk rides etc.
How to Commute locally or the Transport mode in Sri Lanka
Sri Lanka is a fairly small country and easily accessed by Air, Rail and Road transport. Locally, in the cities, Taxis with fixed but negotiable prices, are easily available. But the easiest and best mode are the Tuk Tuk rides. We can also arrange and fix charges with the same auto for the service, for the number of days we are in the city. They also suggest the best local food joints and shopping places. The local buses are easily available in the cities and, even take us to most places including villages on the outskirts of the main cities. They are Cheap and comfortable. It is also a good idea to walk around or hire a bicycle, as towns and cities are small and accessible.
Best things to see in Sri Lanka
Though Sri Lanka is a fairly small island but, there is a lot to do and explore and ideal for a family holiday in Sri Lanka, and it best is to break your travel schedule and focus it into two regions, to plan out a reasonably comfortable schedule… The North and, the South.
As most of us, as international travellers, land in the capital city Colombo, its best to make it our base and on the first day, best to travel around the city and begin the Sri Lanka family vacation.
Day trips down south are advised to be included from Colombo city as part of your Sri Lanka family trip Itinerary.
Colombo (Best Tourist Attractions In Sri Lanka)
The capital city, located on the west coast of the island, is the country's financial and administrative centre. It has a distinct display of modern life in swanky office blocks to the red-tiled colonial-era buildings to historical ruins; the city is vibrantly full of activity. Colombo has a multi-ethnic legacy with temples, churches and mosques. This place is one of the main tourist attractions in Sri Lanka
Shopping Tip: For shopping extravaganza on your family holiday in Sri Lanka, Colombo is a shopper's delight, with vibrant local arts and textile, precious gems antiques, famed Ceylon tea, spices and boutiques displaying international brands and not to forget the world-famed Noritake crockery factory outlets. Colombo also is very proud of its retail outlet ODEL, one of the first outlets selling designer brands at discounted prices.
Things to see in Colombo
Gangaramaya Buddhist Temple is located in the centre of the city, right next to the beautiful Lake Beira. The temple is a beautiful fusion of the Chinese, Indian and Thai design elements and has intricately detailed carving on the doors and the walls, with wall murals conveying stories of Buddha
National Museum of Colombo was established in 1877, and is the perfect place to visit to understand the facts of Sri Lankan culture and heritage and glimpse some ancient historical artefacts.
Also visit the peaceful Seema Malaka, the island temple; Independence Memorial; Viharamahadevi Park; amongst others.
Important Tip: Enjoy the evening of your family holiday in Sri Lanka, with the locals and take pleasure in some local scrumptious street food at the Galle Face Greens, an open area facing the Indian ocean, it is lined with street food vendors. A big must try are Kottu Roti; Hoppers; Prawn Vadai; Achcharu; Saravita.
Tip for Art Enthusiasts: The Nelum Pokuna Art Street, outside the Viharamahadevi Park, is a real gem. Local artists display at very reasonable rates, for sale, their creative pieces and artworks.
Negombo (Best Tourist Attractions in Sri Lanka)
It is a popular Sri Lankan beach resort town, located around 40 km from Colombo, on the west coast, at the mouth of Negombo Lagoon. It is popular for its sandy beaches and the centuries-old fishing industry.
Negombo is dominated by Roman Catholics and houses the majestic St Mary's Church, the largest cathedral in Sri Lanka. The Dutch colonial era is sensed in the remains of the Negombo Fort, Dutch buildings, churches and an extensive man-made canal system that runs 120 km [from Colombo in the south to Puttalam in the north and passing through Negombo]. Having seen the colonial era of Portuguese, Dutch, and the British and with the descendants of Arabic traders still living here, it has majorly influenced the culture and cuisine. Local seafood is a highlight.
Tip: one night in this serene calm fishing town is recommended
The Cultural Triangle of Northern Sri Lanka
A must during a family holiday in Sri Lanka, the North-Central parts of Sri Lanka are a mesmerizing cultural attraction with ancient temples and community ruins, protected as UNESCO World Heritage Sites. Three major sites, Anuradhapura in the north; Polonnaruwa in the East and Kandy in the South-West form an imaginary triangle, thus duly called The Cultural Triangle.
Important Sites – On an expedition in the North Central Region during your Sri Lanka family trip, it is advised to include these sites
The North-Central lands are known as 'Rajarata' or King's Land. The ancient Sinhalese kingdoms, as far back as 2000 years, had their capital cities in Anuradhapura and Polonnaruwa. The two ancient Buddhist capital cities are diverse to each other and, are a manifestation of the majestic past and, something for a tourist to behold.
Once a spiritual head, though today, it lies as a great ruined city is Anuradhapura, the capital city from the 3rd century BC to 993 AD. Known as great Medieval Asia's metropolis, it is marked with elaborate palaces, massive ancient monasteries, Buddhist temples, sculptures, man-made water tanks or 'wewas' and the monumental Dagobas.
The medieval capital from the 11th to the 13th century, Polonnaruwa, symbolises its grandness through its ruins. The Royal Palace stands high in the middle of the citadel amidst the royal baths. The 18 meters standing statue of Buddha in the Lankatilaka Temple of and the beautiful single rock carvings, Gal Vihara, illustrate four Buddhas in different postures. Go and explore the best tourist attractions in Sri Lanka.
The Lion Rock or Sigiriya is an iconic landmark. It is a flat topped 5th century, a 200 meters high monolith, considered a natural wonder, was once the palace of King Kasyapa[447-495 CE]. The narrow staircase across the ochre hued rock leading to the summit at the top provides awe-inspiring panoramic view to the countryside, and has geometrically laid out gardens, fountains and some of the oldest surviving coloured fresco gallery of painted damsels.
The Dambulla Caves date back to the 1st century BC, and are adorned with murals and statues of Buddha. These are rich, well preserved and spread across 5 cave temples in Sri Lanka.
Tip: On your trip to Sri Lanka with family, it's a good idea to stay at Sigiriya for two nights and make day trips around.
Kandy (Best Things To Do In Sri Lanka)
Nestled beside the man-made lake Kiri Muhuda, Kandy is attractive, and the second-largest city in the Sri Lankan highlands. Kandy is located on a plateau, beautifully surrounded by mountains, tea plantations and rainforests. A trip to Sri Lanka will be imperfect if Kandy is not visited, as it is considered as the country's cultural capital, it is the abode to the Temple of the Sacred Tooth, Relichome to Buddha's tooth and, it also hosts the remarkable annual procession Kandy Esala Perahera, or the festival of the August moon is held in the months of July and August. The procession adorned with lavishly decorated elephants, fire dancers, whip dancers, musicians and acrobats hit the streets; the festival is a 10-day spectacular held since 300 AD and begins on the full moon day is held to pay homage to the tooth, relic of Buddha.
Tip: After spending a night in Kandy, do take one of the most beautiful train rides in the middle of the Tea Country; a 3-4 hour journey takes you through the tea plantations and the lush green highlands
Nuwara Eliya and Ella
The train adventure, a highlight of a Sri Lanka vacation, will take us from Kandy to Nuwara Eliya; and then onwards to Ella. A day or two in each of these little colonial tea plantation cities is highly recommended. They are a perfect place to relax, amongst the cool temperature, large tea plantations and its scenic beauty, with numerous waterfalls around the region. Budgeted comfortable home stays are easily available, along with boutique hotels for accommodation.
The adrenalin loving enthusiastic can include and plan in their Sri Lanka itinerary thrilling hiking trails, amongst the forests, grass plains and the clouds; and encounter wildlife and varied bird species. The most popular being the Horton Plains trail and Adams Peak, a sacred pilgrimage hike.
Galle
A day trip to Galle from Colombo is enough to explore the city as it is just around 130 km south-west coast of Colombo. It is a 16th century fortified old walled city set up the Portuguese colonists, known as Galle Fort, and a world heritage site. The thick ramparts, later built by the Dutch are thick enough to walk upon and look into the ocean waves, the old lighthouse, clock tower and the prison. The little streets within the fort are lined with boutiques and shops in the original fort structure and are good to buy souvenirs' like gems, jewellery and hand-woven sarongs and linen.
Tip: On the way back to Colombo, we can stop over at the Turtle sanctuaries and view the unique skilled Stilt fishermen and take photographs as a remembrance.
Mirissa
The Mirissa beach and its vibrant nightlife, makes it one of the popular Sri Lankan Beaches with thetourist. This fishing port is situated app 150 kms from Colombo, it is one of the main Whale and Dolphin location in Sri Lanka. The sunset at the secluded 'Secret Beach', a small unspoiled beach, is perfect.
Tip: To leave an everlasting memory of an exciting family holiday in Sri Lanka; the best time to spot a whale is from November end to March.
Although I had experienced whale watching in Japan, for Sonakshi it was the first time and she was super excited. Luckily, we were not disappointed.
The little crowd and a handful of restaurants at the Marissa Beach; makes it a perfect place to relax in the afternoon; and the waves also make it an ideal spot to learn Surfing. A short drive away can also take you to Matara, to experience the local life of a busy commercial town.
Yala National Park (Best Things To Do In Sri Lanka)
Bordering the Indian Ocean is a must place to be visited with kids on a Sri Lanka family vacation. Yala National Park is the most visited National Park in Sri Lanka. Located 300 km from Colombo, the park covers an area of 979 sq km. The park is best known for its conservation of Sri Lankan Elephants, Sri Lankan Leopards and Aquatic birds amongst other wildlife. Yala is home to 215 bird species, including 6 endemic species of Sri Lanka and has a recorded highest density of leopards in the world.
What makes a family holiday in Sri Lanka a must-do!
Has a variety of places of interest; wildlife, heritage, forests, beaches, metropolitan city, pilgrimage
The travel cost and local commuting in Sri Lanka is comparatively cheap
The food is very economical, and has a wide variety of local cuisine especially the Sri Lankan Seafood and, its spices
Accommodations available vary; as a tourist on a budget we can always opt for BnB guest houses for accommodation and; numerous Boutique and high end Hotels are also available.
We have provided here with suggested information on the places which should not be missed and, can be easily covered in a week's time. A Sri Lanka itinerary can still have much more to offer and may need for us to come back and visit again!!!
This blog-post was co-authored by Anuradha Nag. An ex-marketing professional, Anuradha hails from India's NCR (National Capital Region). She loves to travel and has recently been on a family vacation to Sri Lanka.
placesinpixel.com is a participant in the Amazon Services LLC Associates Program, an affiliate advertising program designed to provide a means for sites to earn advertising fees by advertising and linking to amazon.com. In additional to Amazon, placesinpixel also participates in other affiliate programs wherein we might earn referral commission with no additional cost to you.