New Delhi, India's amazing capital city, has a lot of offer for all types of travellers from across the globe. Having travelled to Delhi multiple times, we thought of composing this blog post about Delhi Travel Itinerary and show you the best way to explore Delhi.
Delhi, a city with a 'heart'
It is very prevalently said, 'Dilli hai Dilwaalon ki', implying that Delhi belongs to people with a heart!! Tourism thrives here merely due to this; incredible but true; everyone is enthusiastically ready at all times and willingly give out their helping hand. And even after being a large cosmopolitan city, Delhi has beautifully embraced all cultures, traditions, religions and customs with open arms and made them their own. Due to these numerous factors, Delhi is today a lovely union of all. Though for a tourist exploring around this beautiful green city, the city can be pretty diverse and exhilarating.
Brief History of Delhi
A very strategically located city, Delhi has always held a position of political importance and, has witnessed the rise and fall of numerous empires. Believed to be in existence as an ancient city in the 6th century, but, detailed reporting is available only since the establishment of the Delhi Sultanate of the 12th century. It is alleged to be a City built, destroyed and rebuilt, innumerable times. Thus, Delhi has numerous monumental remains all around the city, sweet and sour reminders of our past.
Delhi's pride lies in the many beautiful historical monuments,
which are immeasurable in all aspects.
How to reach Delhi
Air: Delhi is very well connected by Air. Being the capital city of the country, all major International and Domestic destinations have flights operating from the two airports located here
Rail: Domestically, India boasts of the world's largest network of railways connects. Delhi is well linked to the whole country. It has three important railway stations
Road: A well-planned network of National Highways link Delhi to all destinations. Both Private and Public transport is also readily available in forms of buses, taxis, Ola, Uber etc.
Within the city:
Delhi also has a very well laid out transport system within the city – Metro train service/ taxi service/ bus/ auto-rickshaw etc are all easily assessable.
Best time to visit Delhi
Usually the first City stopover on a trip to India, Delhi is a much-visited destination both by Sightseeing and Corporate travellers. The corporate travellers are there throughout the year but, the ideal or the best season for a tourist is before and after winters. The weather gets extreme both too hot in summer and too cold in winter, thus September to mid-December and mid-January to early April are perfect to plan out a Delhi Travel Itinerary and, enjoy the majestic historical city and merge in its beauty and cultural diversity.
Top 10 Travel Tips for Delhi
Always carry drinking water
Local Markets are always fun to bargain while shopping
Be alert and careful of personal belonging
Bargain and Pre agree to prices with Taxis, auto rickshaws
Dress appropriately, as summers can be scorching hot and winters harsh. If visiting any Holy Shrine, please cover your heads with a scarf.
Try local Indian Food
Carry Hand Sanitizer, Face Masks and Tissues
Carry smaller denominations of local cash
Reside in a centrally located hotel
Avoid to travel alone late at night
Planning an Ideal trip to Delhi
It would be being completely unfair if we specify a set time frame to see this beautiful city. I have been living here since birth, but still amazingly get to experience new treasures, very often.
Delhi is encircled by a diverse history and is culturally rich; we get to see an ultra-modern city, as well as an ancient city, through its well-preserved monuments. We find plenty of wide roads and beautifully manicured parks and gardens. There is an extreme end of pollution, traffic and congested market places; to the other end are the most beautifully laid out farmhouse and bungalows. It has fancy apartments and skyscrapers too…. Delhi has it all and, more.
To get the best of this beautiful city, we need to spend at least three days in Delhi.
Keeping in mind that as a tourist one gets the optimum exposure and the feel of the city, it is suggested to follow the ideal itinerary below, which also lists out places of interest, which of course, can be managed as per own convenience too.
The optimum way to travel locally and around Delhi is best on your own, please as far as possible avoid set tour operators. Public transport in Delhi is very cheap, convenient and very easily assessable. Do not forget to try the world famous Auto rickshaw ride around the city.
A Perfect 3-Day Delhi Travel Itinerary
DAY 1
To get the best of the local sightseeing and the city, in the least amount of time, it is best to opt for the 'Delhi Darshan' trip on the HOHO bus. It is a Delhi Tourism Hop On, Hop Off, AC Tour Bus. This single/ two day tour takes one around the city covering over 25 of the major tourist attractions like monuments, museums and markets. They also drive pass some of the important buildings and offices. In this very economical, convenient mode, one has the comfort and liberty, and is not bound to anyone.
The Must Visit Stopovers should be:
Red Fort [Laal Qila] – The landmark monument is synonymous with Delhi, it is a massive red sandstone structure, and was built to set up the capital of the Mughal Empire in 1638 by Emperor Shah Jahan. Every Independence Day on 15th August, the country's Prime Minister hoists the National Tri Colour Flag at this venue;
Open: Sunrise to Sunset, Monday closed; Entry Rs 10 [Indian] Rs 250 [foreigners]
Qutub Minar – is a 12th century 73 meter high, 5 storey tower built to celebrate the Muslim dominance in Delhi;
Open: Sunrise to Sunset; Entry Rs 10 [Indian] Rs 250 [foreigners]
Humayun's Tomb – is a picture-perfect example of Persian architecture and, it was built as a tomb of Emperor Humayun, by his widow Hamida Bano Begum in 1526 AD;
Open: Sunrise to Sunset; Entry Rs 10 [Indian] Rs 250 [foreigners]
Raj Ghat – a black stone platform is a memorial built to honour Mahatma Gandhi, father of the nation. Gandhiji or Bapu, as he is fondly referred to, was cremated here and today this peaceful complex is maintained with beautiful and manicured parks surrounding the cenotaph.
Open: All days; Timing: 5 am – 7.30 pm; Entry free
Lotus Temple – an architectural marvel, beautifully built in the shape of a blooming lotus flower, comprises of 27 free-standing marble-clad petals arranged in clusters of three to form nine sides. It is an All Baha'i Houses place of worship, and has no pictures, statues or images, as per their scriptures.
Open: Tuesday – Sun; Timing: 9 am – 5.30 pm; Entry free
Jantar Mantar – it is a 1724 AD Observatory built by Maharaja Jai Singh, to accumulate astronomical tables, which predict time and movement of Celestial bodies.
Open: Sunrise to Sunset; Entry Rs 5 [Indian] Rs 100[foreigners]
And, for those interested in museums, do visit the Doll, National Rail, Crafts and Hastkala Academy, Archaeological, Natural History, Modern Art, Air Force, Philatelic, National Science Centre, Nehru Memorial and National Museum.
The Drive Pass will take us through the regal Rajpath in Lutyens Delhi [the ceremonial boulevard of Delhi], India Gate [often compared to Arc de Triomphe, it is a war memorial], National War Memorial, Rashtrapati Bhawan [the President of India's residence], The Parliament House, different Government of India's Ministry buildings, AIIMS, the Embassy Road in Chanakyapuri.
An early riser can witness the Rajpath with morning joggers, countless cycling enthusiasts. A private Segway Tour around that area can also be taken. A one hour trip will cost around Rs. 1000.
The HOHO tours start at 7.30 am daily and are priced as below
1 day tour Rs 499 Rs 999
2 day tour Rs 599 Rs 1199
DAY 2
Start the day early in the morning and, seek blessings with a visit to the holy Gurudwara Bangla Shahib', and if possible have a bite at the 'Langar' a 24-hour kitchen serving the worlds simple yet tastiest meal, as it is made with extreme love and devotion of volunteers. Within a walking distance in the centre of Delhi, Connaught Place, where there are the rows of the numerous State Emporia, which are ideal to shop arts and crafts of each Indian State exclusively.
To explore for souvenirs, search the Janpath market and for the top variety original Khadi check out the famed Gandhi Khadi Emporium, a govt of India enterprise selling and promoting hand-woven natural fibre cloth and natural cosmetics… a must buy from Delhi.
Visit the famed Birla House or Birla Bhavan, where Mahatma Gandhi had breathed his last.
Later, by the evening spent time in the old majestic lanes of Chandni Chowk area of Old Delhi. You will find here a separate market each to buy Silks, Precious Jewellery, Exotic Indian spices, dry fruits etc.
Visit the Holy Jama Masjid and do not forget to savour some local delicacies like Mutton Kebabs, the Kormas, the juicy Fried Chicken or the wide variety of Biryani, all very famous and scrumptious, only found around this area. Do try the Mughlai Sweet Bread 'Sheermaal' and the sweet soft textured 'Rasmalai' of Sheeren Bhawan. A must-have is a plate of Alu with Bedmi Kachoris with a glass of Sweet Lassi, a local refreshing sweetened flavoured curd smoothie.
Once tired of walking around, do not miss out on the opportunity to take a Cycle Rickshaw ride in the narrow lanes, it's an amazing, exhilarating experience to be zipped around these heavily crowded narrow lanes.
Ideal Souvenirs to be bought in Delhi
The Janpath Lane in Connaught Place is the perfect place to pick them up on a short trip to Delhi. Be ready to bargain and get a good deal.
Silk and Pashmina Scarfs
Ethnic Mirror work bags, purses, wall hangings and spreads
Vibrant coloured Madhubani paintings
Sandalwood and Brass items
Jewellery boxes in metal, wood and stone
Ethnic Custom Jewellery
T-Shirts and Cotton Apparel
Fridge magnets (our personal favourites)
From the lanes of Chandni Chowk do pick up Indian Spices, Tea and Silk [Dress material or a Saree, the Indian National Dress]
DAY 3
The final day to be spent in visiting Dilli Haat, a shoppers haven, it is an open-air food plaza and crafts bazaar, which beautifully highlights the Indian Art and Heritage and closely located are the Lajpat Nagar market, the high-end South Extension and Greater Kailash markets.
Finally, some time can be spent in visiting the National Crafts Museum at Pragati Maidan; it is the largest crafts museum in India, run by the Ministry of Textiles. One can witness and participate in live demonstrations of craft programmes and interact with craftsperson. Sale, as well as an exhibition of handicrafts and handloom products, is always there.
A ten minutes drive, from the museum, is the Swaminarayan Akshardham temple, a Hindu house of worship and also a spiritual, cultural campus, and is built from intricately carved sandstone and marble.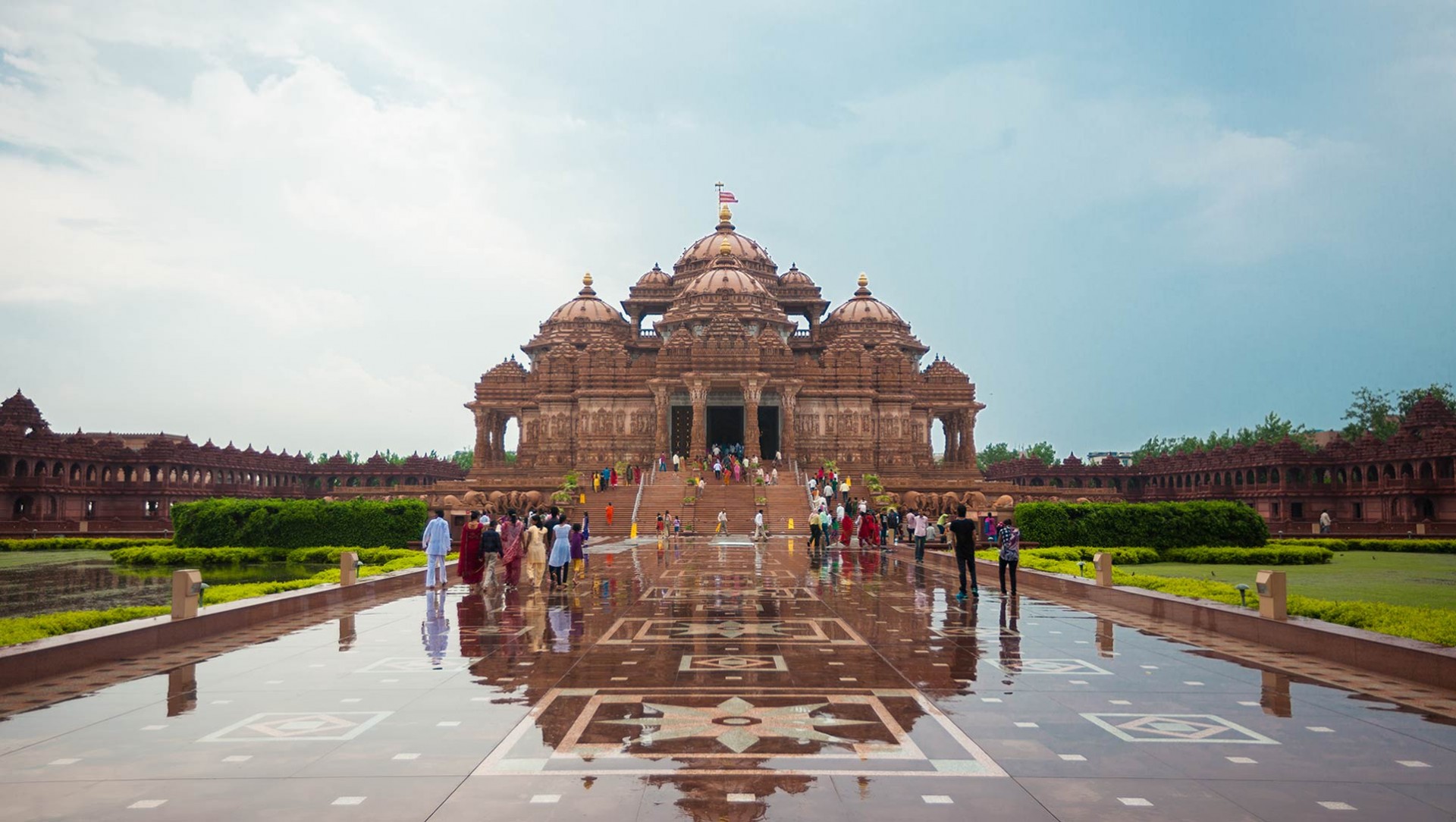 If you have little more time, do visit the Lodhi Gardens, a 16th-century architectural wonder dotted with monuments and tombs from that period and close to the gardens is the Agrasen Ki Baoli, a 60 meter long and 15-meter wide 'Stepwell' with 103 steps, believed to be rebuilt around the 14th century. The Baoli is open daily from 9 am to 5.30 pm and posh and classy Khan Market located nearby, a favourite of the diplomatic community and lined with upscale food joints.
Why visit Delhi?
Very simply explained, Delhi is big and beautiful; outstretched and charming; as well as equally dirty and noisy. From being the country's political power seat to its historically rich past; from being a shopper's paradise to its diversified food haven; from narrow bustling bazaars lanes to and wide green sprawling city. Delhi magnificently maintains itself as the country's representation of a rich past and a prosperous present. It can be extraordinarily overwhelming but, it gives all a true taste to India.
This blog-post was co-authored by Anuradha Nag. An ex-marketing professional, Anuradha hails from NCR (National Capital Region). She loves to travel, especially going on road trips with her son.